When you hear AliExpress, what are your first thoughts on the portal? If great deals and affordable prices ring a bell, then we are on the same page. I always assumed AliExpress had ample choices, cheaper prices, and bulk purchasing options when compared to other websites. Yes, all that is true, but what amused me is an array of products that are uber expensive and are scattered across categories ranging from sports, entertainment, furniture and fashion.
They are highly-priced for a reason and we are about to find out why. Here is a curated list of the most expensive things money can buy across different categories on AliExpress. This might change your perception of the portal and the brand.

Most Expensive Product on AliExpress
Quick Links
#1 — LVCHI Persian Sheep Fur Skirt Patchwork X-Long 
Category: Women's Clothing

This Persian sheep fur skirt from the fashion brand LVCHI is handmade and uses Persian sheep and mink fabric. This fur skirt is part of their New Fur High-end Custom Series and speaks volumes of their style and couture. This handmade fur skirt uses three-dimensional full knife technology and is a breakthrough in clothing design. For all you women who love to mix and match, you can pair it with a skirt or pants to match your elegant style. The design and the use of mink reflect the "less is more" fashion trend. 

This product is available on AliExpress for a whopping $115,999. It will be shipped to you for free within 10-21 days with also comes with 90-day buyer protection and a money-back guarantee. 

#2 — DLP LED UV Light 3D Printer
Category: 3D Printing Technology

Ever heard of a printer that can print 120 bangles/bracelets at one time? Meet the DLP LED UV Light 3D Printer Plus 7 (L190).  

Manufactured by the Jiangsu Totus Technology Company, the Plus 7 (L190) is a high precision, fast printing, and highly stable DLP-3D printer. The printer is equipped with a high stability LED UV light source with a life span of more than 10,000 hours. This ensures reliable moulding that helps print multiple models, up to 120 bracelets at one time. This is truly a breakthrough in jewelry design and production. 

Well, now that we know what it can do, I'm sure you want to know how much it costs. This product will set you back by $88,000, but for a new age jewelry design company, it would well be worth its weight in gold.

#3 — Robotis op2 ROS
Category: Robotics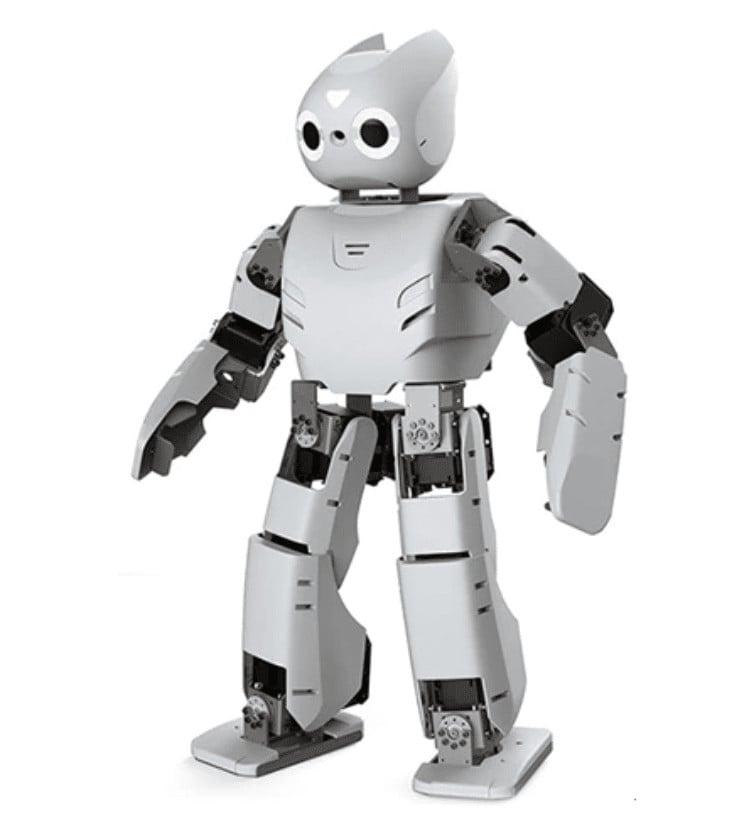 The Robotis op2 is a humanoid robot with superior performance and advanced functionality. An upgrade to the discontinued Robotis op, the op2 is compatible with darw1n and is on par with the robots which competed in the Darwin robot competition. Powered by Intel Atom N2600 s 1.6GHz dual-Core chipset and a 4GB DDR3 RAM, the Robotis op2 has a default walking speed of 0.25 step/sec and can be customized by the user. With a self-maintenance suite and standby mode, the robot can be charged with an external power adapter. Now, who wouldn't want to buy this? Right. 

You can own this humanoid robot for a cool $21,000. The Robotis op2 will be shipped to you in a month's time or you can opt for a 100% refund. This product also comes with 90-day buyer protection. Imagine the surprise on your friends and families' faces, when you welcome the op2 home?
#4 — IDR Gold Chandeliers Luxury Crystal Lamp
Category: Lights and Luxury Lighting

The Gold Chandeliers Luxury Crystal lamp is a modern crystal & stainless steel chandelier that comes with a 10-year warranty. Manufactured by Sunwe Lighting, a company that has been manufacturing chandeliers for over 15 years. The manufacturing unit is located in GuZhen town, ZhongShan city, GuangDong province in China. The 10-year warranty protects you, the buyer against manufacturing defects. The crystals used in the chandelier is K9 Crystal (The finest Chinese Crystal available) and the light base is LED bulbs.

This dazzling chandelier can be yours for $59,888. The packaging, which consists of three layers including foam, paper, and an outer wooden packaging ensures safe delivery to your doorstep. They deliver across the globe and accept Alipay and all major credit cards through a secure payment gateway. If you are planning on a new house or want to deck up a hotel lobby, this gold chandelier is a perfect fit to be a conversation starter.
#5 — Yangda YD6 Hybrid Hexacopter Drone 2.4kw 3.6kw 6kw
Category – Sports and Entertainment

All you drone enthusiasts, this will surely get your attention. The YANGDA YD6-1600L is a gas-electric hybrid drone that is designed to overcome the dreaded flight time limits on drones. Powered by a 2.4kw 3.6kw 6kw generator, the YD6 gives you continuous and stable power supply despite the high altitude flying. This power backup enables aerial inspection, search and rescue operation, aerial photography and as a device to survey remote locations. The YD6 comes in three variants, the 2.4kw, 3.6kw, and 6kw. 

The 2.4kw can fly for 3.8 hours with a 3.4 kg payload and the 6.0kw can lift an impressive 10.5 kg payload. The pluggable arms of The YANGDA YD6-1600L makes it extremely portable and can be assembled by one individual in five minutes flat. The inbuilt 6S lipo batteries ensure a 90 seconds emergency landing, in case the gasoline-electric engine fails during the flight. This has to be a feature that sets it apart from the other hexacopters. Are you ready to set your sights high? Then you can buy this beast from AliExpress between $12,399 – $14,299 today. Click on the link now!
 #6 — Automatic disposable snack boxes machine
Category: Instruments and Equipment

If you're a budding entrepreneur or planning to start a small/mid-size packaging industry, read on. This automatic disposable snack box machine from Dan instrument & equipment CO., LTD might just be what you've been looking for. The product can produce various snack boxes like lunch boxes, hamburger paper boxes and, fried chicken boxes. The core features of this machine are as follows:
It can produce different shapes and sizes of boxes by changing the forming mold and it's cheap and flexible.
The machine is efficient and can produce 160 pieces per minute.
It is convenient to install because of its size.
The machine is automated, is simple to operate, and involves low maintenance.
This powerhouse machine is indeed a great investment and is available at AliExpress at $39,000 and will be shipped to you within a period of 55-60 days. The product is also covered by 90-day buyer protection and money-back guarantee.
#7 — Inflatable Water Slide Park with Bracket pool
Category: Entertainment

Yes, you read that right. You can buy your own inflatable water slide park on AliExpress. This inflatable water park is manufactured by KK Inflatable Limited and they have been in the water and land amusement park industry for the past 20 years. They were also the first company to build an inflatable water park, Honghaiwang water park in China. 

The product is highly customizable in terms of size and color. You can emboss your brand logo across different sections of the water park and gain maximum mileage through advertising, and rental services.

When it comes to products like these, after-sales services matter most and KK Inflatable Limited has that covered. The product ensures it passes all safety guidelines with the TUV certificate, Certificate of compliance for all their water toys. The team at KK with over 20 years of experience in design, customer service is prompt and reaches out to solve complex issues on time. This includes technical guidance and after-sales servicing. So, are you ready to set up your very own water park? What would you name it? Well, before you get to that, let us understand what a product like this might cost, shall we? This Custom Attractive Inflatable Commercial Popular PVC Tarpaulin Inflatable Water Slide Park with Bracket pool can be purchased at AliExpress for $45,299 and includes accessories such as repair kit, blower, and water glue.  
#8 — Royal Antique Gold Gliding Carved Sofa Set
Category: Furniture

When it comes to furniture, one always wants the best in terms of durability and quality. At AliExpress, your imagination can run wild with a huge selection of living room furniture like this Royal Antique Gold Sofa Set. The set includes 2x arm chair + 2 seater + 3 seater. The color and fabric can be customized and the material used is an oak base with resin top (full gold gliding) and brocade cushion covers. 

The sofa set is manufactured after your communication with the company in Foshan, Guangdong, China and they ship worldwide with a production lead time between 7-15 days. This Antique furniture set will cost you $4,289 and will surely add a touch of class to your house, guest room, or holiday home.

So hows that for some shopping at AliExpress? You'd never know what you might find scrolling through the different categories, I'll let you explore and wait for you to share your experiences on the most expensive things on AliExpress.
110" Curved 4K Smart LED TV
Yes, AliExpress has one of the largest TV screens on sale. This whopping 110" curved display is one of the most expensive products sold on AliExpress as it retails at over $20,000. It comes equipped with a 4K UHD LED screen and runs on Android 7.1 OS. 
This TV weighs a massive 21.9kg and can give you the theater viewing experience that you're looking for at home. Unfortunately, the refresh rate of this TV is a mere 60Hz, but considering the sheer size of it, you wouldn't need more to enjoy any genre of movie or game.
2.5CT 18K White Gold Engagement Ring
This massive natural emerald engagement ring from Wong Rain is made from solid 18K white gold and is embellished with numerous fine diamonds and one large natural green emerald. It's available in 5 sizes and is probably one of the most expensive rings you can find on AliExpress.
We really loved this product simply because the seller permits customizations and you can have  your names or dates engraved on the ring for no additional charge. This ring features a classic design and is truly something you would definitely see yourself wearing.
FAQ
Is it safe to buy expensive products from AliExpress?
AliExpress is one of the largest and safest platforms to use if you're planning on buying expensive things. This is simply due to the fact that AliExpress takes precautions to ensure that buyers are kept safe from scams and would only host genuine sellers on their platform. As long as you follow the guidelines laid by AliExpress, you can rest assured that no matter how expensive the product is, it will reach you on time.
Is it safe to pay for an order using my credit card?
AliExpress is a platform that offers different payment methods to buyers simply to make the whole process easier and transparent. You can safely pay for your order with a credit card since the platform comes equipped with a secure payment gateway.
You can choose to use either a credit card, debit card or PayPal while making your payments and what AliExpress does next is hold the amount in escrow until your order has reached. This is done so that in case a seller happens to send you a wrong item or a defective item, AliExpress will hold your money until a resolution is reached and you're comfortable with the seller's decision. 
/spacer
What are the most expensive things on Aliexpress?
The most expensive things on Aliexpress are fur coats, luxury jewelry, manufacturing machines, robots and 3D printers. Although they are the most expensive on Aliexpress, they are cheaper than other websites and retail stores when it comes to the same products.
Guide to buying expensive items from Aliexpress
There are rules to follow when you are purchasing expensive products from Aliexpress. Here they are.
Research the heck out of the seller. What do they sell? How long have they been around? What are their ratings and reviews and other pertinent information. If you see some red flags, do not purchase from them.
Make sure they have a money back/refund/replacement policy. The best is the 90 Day money back guarantee where Aliexpress ensures you get your money back within 90 days, if you aren't happy with the product.
Find out about taxes in your country before ordering. Some expensive items are taxed heavily and you want to avoid that.
Take a video of the product when you are unboxing it while taking a video of the bill and details, confirming you are the buyer. In case, there's an issue with the product, you have proof.
Also Read :